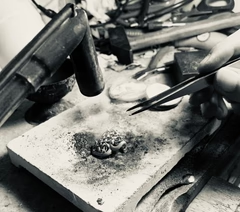 You have Lifetime Warranty on our engagement rings, wedding rings and custom jewelry incase of fabrication errors. You also have a 3 year Warranty on all jewelry with 18K gold, 24k gold and Platinum. Fabrication errors include missing pave stones, loose diamonds, and loose prongs.
Fabrication errors do not include general wear and tear, scratching, stretched chains/rings, lost jewelry, or jewelry damaged due to improper use, cleaning or storage. When normal wear and tear occurs, repairs can be done in house by our expert staff for a repair fee. This warranty does not apply to the replacement of a center stone.
If you believe your ring has a fabrication error, you could send an email to contact@honn.se, after we handle your case.
Please NOTE: Any work performed by a jewelry other than Honn Fine Jewelry automatically voids the warranty.


Repairs

We ensure that our craftsmanship is to the highest standards and repair all items made by HONN fine Jewelry. You may bring your item to the store for a free evaluation and estimate.
Gold and platinum repairs:
Start at 900 Sek (exact cost on request)
Loss of Accent Diamond Stones:
Free of charge
Please Note* There is a shipping cost of 300 SEK for service items. Unless you leave the item at our flagship store at Birger Jarlsgatan 23, there will be no such cost.